Good news! HEROLSAER successfully passed the re-certification of "three major ISO systems"
Recently, HEROLASER successfully passed the re-certification audit of ISO9001 quality management system, ISO14001 environmental management system and ISO45001 occupational health and safety management system, and obtained the "three systems" certification.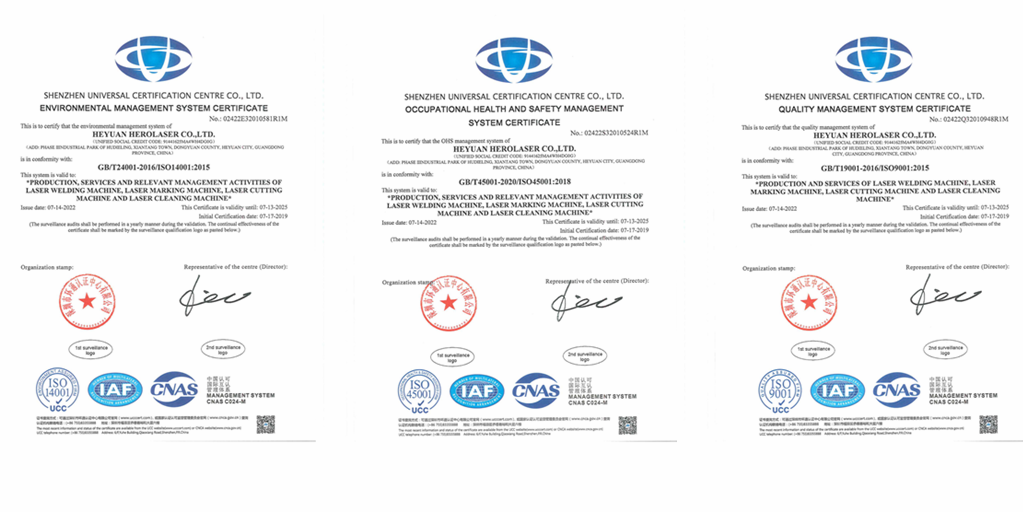 "Three systems" are the requirements for modern enterprises to develop and improve their competitiveness, and are also the embodiment of enterprises' law-abiding, trustworthy and honest management. The successful passing of this audit marks that HEROLASER has reached a new level in refined, institutionalized and standardized management.
HEROLASER has always attached great importance to the development of the "three systems" certification work. Since the start of the certification work, a document control center has been established, a work plan has been formulated, and work tasks have been refined. Under the solidarity and cooperation of the company's senior leaders and relevant departments, the management manual, the preparation of program documents, internal audit, compilation of management review system, environmental factors, identification of hazards and laws and regulations, document system, record review and review have been successfully completed. , safety, environmental compliance evaluation and the improvement of the three major regulations. On July 14, Shenzhen Huantong Certification Center Co., Ltd. officially issued the quality, environment, occupational health and safety management system certification for HEROLASER, and officially passed the re-certification of the three management systems.
The successful completion of the "three systems" re-certification has a positive effect on improving the company's standardization and management level, helping to further optimize and standardize various management systems, enhance the company's brand value and core competitiveness, and improve the company's high-quality Development is positive.
In the future, HEROLASER will be committed to the healthy and sustainable development of the company, continue to work hard and exceed standards, and contribute to the development of enterprises and industries, society and environmental protection.
---
Post time: Aug-24-2022